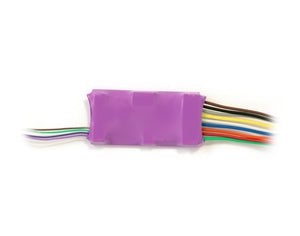 NOTE: Some SoundTraxx products may have a 5-7 day lead time.
The Tsunami2 TSU-2200
The TSU-2200 is a versatile decoder that will easily fit into a wide variety of HO to S scale models. You will feel like you are in the cab with the crisp sound and interactive features that Tsunami2 decoders have to offer!
DYNAMIC DIGITAL EXHAUST 
For added realism, you'll love our reactive Dynamic Digital Exhaust (DDE) feature. When your locomotive is traveling across flat terrain and simply maintaining speed, you will hear your locomotive chugging along. But, when the locomotive encounters a grade and the engineer applies more throttle to get the train up the hill, the engine sounds will automatically react and reflect the increase of power needed to crest the hill. DDE accomplishes this by calculating the changes in strain or load on the motor and adjusting the exhaust to appropriately simulate the work the engineer would be doing to the throttle of the engine. This gives Tsunami2 the ability to create the most realistic experience possible.

HIGH QUALITY SOUND LIBRARY
Our large selection of high quality sound effects include: 
10 Exhaust Chuffs

Up to 12 Prime Movers in each sound profile 

Up to 12 Bells 

90 Whistles

40+ Airhorns

Additional couplers, dynamos, cab chatter and more!
ADDED REALISM
Additional realism can be simulated by adding functioning locomotive and train brakes, injectors, power reverse, firebox flicker and more.
EASY INSTALLATION
The TSU-2200 can simply plug into models equipped with a DCC quick plug. Our 9-Pin JST to NMRA 8-Pin Wiring Harness (P.N. 810135) can also be used to plug the TSU-2200 into models equipped with an NMRA 8-Pin plug. The TSU-2200 can also be wired into a large variety of models.
This 2-amp, universal-style format, and includes a connector to easily add a CurrentKeeper (P.N. 810140 or 810160) to maintain performance over dirty track and switches.
| | |
| --- | --- |
| Dimensions: | 35 x 18 x 6mm  |
| Max. Motor Stall Current: | 2A |
| Max. Function Current: | 100mA (each output) |
| Function Outputs: | 6 |
| Audio Amplifier: | 2 Watt, 8-Ohm Load |
| DCC Track Voltage: | 7.5V – 22V |
| Sound Channels: | 16 |
Shipping
Shipping: Free Domestic USA Shipping for all purchases over $199! Flat shipping rates are assigned based on item(s) value or weight. All items are fully insured and shipments valued over $250 will require a signature for delivery.
International Rates: We're happy to ship anywhere in the world that can receive items from the USA. International rates are calculated based on the lowest/slowest options available to keep it reasonable. Buyer is responsible for all imports, duties, and tariffs that may apply. Rates are calculated at checkout. Transit times may vary with current state of the world...
Packing: Bullet Proof - Period. With over 10 years of experience, we know that these models are all harder to find, long out of production, and fragile items and they are packed accordingly, especially the brass models. Read our reviews for the proof - we truly care about your purchase and it shows in our packing of models. Oh, and we never charge a handling fee!
Payment/Returns
Payment: We accept most major credit cards, PayPal, Apple Pay, Google Pay, and other common forms of payment. We DO NOT accept personal checks or cash payments made by mail. Bank checks (Cashier's Checks) and Money Orders may be accepted with prior approval. All prices are shown in US Dollars (USD). Contact us with any questions. 
100% Satisfaction Guarantee: Not happy with your purchase? Let us know and we'll make it right with a 30-day, no-questions asked, money back policy. Buyer will be responsible for return shipping costs, unless of course in the unlikely event that the item arrived damaged.